Job Interview Tips for Insurance Agents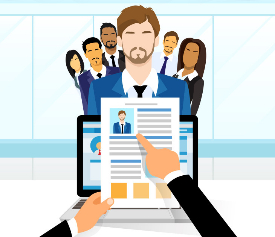 If you're trying to get hired by an insurance company or agency, check out these interviewing tips for nailing the interview and jumpstarting your insurance career.
Research the industry and company
Job interview success begins with a strong basis of knowledge on your part. You should have a clear understanding of the company you're interviewing with, the specific requirements of the position, and at least know a bit about the person conducting the interview. The more research you do, the better you will be able to respond to questions. Look past the company's website and dig deeper.
Google Alerts
If you have a week or two before the interview, use Google Alerts to do some of the digging for you. Signing up for Google Alerts is fast and simple and once you're set up, you can start getting email alerts of news stories and happenings for any topic you choose. With just a few mouse clicks news stories and current events related to your target companies will be automatically sent to your inbox on the schedule you set. This is one job search tip that will keep you up to date on all of the most important things happening in your industry and the companies you're interviewing with.
Schedule earlier in the day
Try to schedule your interview time before noon. You'll probably be a little anxious leading up to the interview, so rather than have that feeling snowball throughout the day better to get it done early. In addition, a 2013 Harvard study showed that among MBA applicants interviewing on the same day, the ones that interviewed later in the day received lower scores than they likely should have, showing a potential bias against the late interviewees.
It's also been shown that interviewers tend to remember more clearly the first few people they interview on a given day more than the ones that came later on the same day.
Body language matters
A reminder on the basics is helpful: dress for the job you want, offer a firm handshake and make eye contact, don't slouch, speak audibly and clearly, and do not wear cologne or perfume.
Studies have shown that the handshake plays an important role in first impressions. Make it count. Your handshake should neither be bone splintering nor weak and limp. Shoot for a firm handshake, make eye contact and smile.
Build rapport
Establishing a good rapport with a person you just recently met can be a difficult task, but showing the interviewer that you are on the same page will help the interview go smoothly.
A useful tip for developing rapport is to subtly mimic the interviewer's body language or mirror their tone of voice. Watch the way the interviewer is carrying themselves. Are they speaking slowly or quickly? Are they animated or calm? By closely matching their behavior it's easier to create that feeling of kinship.
Be ready for the "tell me about your biggest weakness" question
Most people overthink this question or come prepared with a canned answer like "If I do have a weakness it's that I'm too much of a perfectionist," which is designed to show a weakness that's not really a weakness. Problem is, everyone uses this one.
Some give a sincere answer but don't address what the question is really asking. The question isn't about showcasing your failings to an interviewer, it's about letting them know how you've overcome them.
Here's a good example: "I've struggled in the past to run effective meetings. But I've worked hard to improve that by setting the agenda at the outset, establishing a firm end time, and creating an action plan for all attendees with date specific deliverables."
Be ready to deal with inappropriate questions
Let's face it, not everyone you interview with is going to be a career HR professional with a firm grasp on what questions are OK to ask, and which ones are a definite no-go. Questions about your age, race, religion, gender, sexual orientation, and marital status are inappropriate and often illegal. However, you should expect to get one or more of them at some point if you're interested in how to get an insurance job.
When you do, you have a few options. You can simply ask how that's relevant to the open position you're interviewing for and attempt to move on. Or you can try to answer with a non-answer, by saying that you're committed to your career and can perform all the duties of the position.
Don't forget copies of your resume
Have several hard copies of your resume with you when you're at the interview. You'll save lots of time if the interviewer has forgotten to bring his or her copy by just handing them an extra.
Dress for success
Plan out attire that fits the insurance company and the job you're applying for. Remember, it's better to be overdressed than underdressed, and be sure that what you're wearing is clean and pressed. Keep jewelry and other accessories to a bare minimum if possible. Do not eat or smoke prior to the interview.
Ask good questions
Studies have shown that employers judge an applicant's interest in a job by whether or not they ask questions. Consequently, even if the interviewer was exhaustive in explaining the job opening, it's expected that you'll ask some questions. This shows the interviewer that you've done your homework and that you're interested in the company. A smart applicant prepares questions well in advance of the interview.
Thank the interviewer in person and by email
For the sake of common courtesy, it's important to thank each person who interviews you before you leave. Then, send a thank you email early the next morning, before 9:00 am when most people are just getting to the office.
While some still espouse the use of a mailed thank-you note, this is an email world now and an emailed note has a much better chance of a response than a mailed one. And the more interaction you have with the interviewer the better. Writing a thank you email will not get you the insurance job all by itself, but it may give you an edge over other applicants that didn't bother to follow-up.
The Virtual Learning Experience is AMAZING!
Please take a minute to experience the tour through the menu bar above...You will agree, the LATITUDE Insurance & Securities Test Prep Virtual Learning Experience is the best way to prepare for your FINRA/NASAA and/or state insurance licensing exam.
You may know others who will be taking the Life & Health Insurance Exam, Property & Casualty Insurance Exam or FINRA/NASAA Exam(s).
Please share our site with them.
Thank you for visiting the LATITUDE Insurance & Securities Test Prep online insurance school and good luck with your licensing exam!