Shopping for Health Insurance:


State Exchanges Vs. Healthcare.gov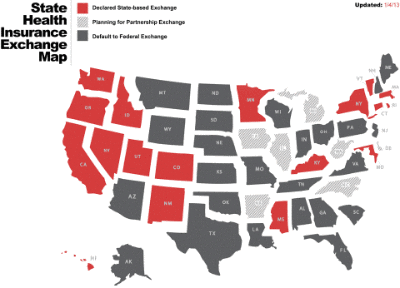 Getting a health insurance plan can be complicated, the terms exchange, marketplace, and Healthcare.gov can also confuse a first timer. As the November 1 approach for the open enrollment to kick off, advertisements are all over, some exchanges claiming that they offer a better experience than the government-run health insurance. Let's look at some few things about state exchanges and Healthcare.gov and make it simple for you to choose.
State Exchanges
State exchanges are commonly known as state marketplace, and offer all plans available in a government-run exchange and add some optional off-exchange plans. The Affordable Care Act (ACA) commonly referred to as Obamacare allowed for the creation of marketplaces where consumers can have a list of health insurance plans available in your state, compare their policies and submit an application.
Twelve states have opened their doors to the state-based marketplace. They, however, have to follow the federal regulations and guidance when formulating their marketplace framework. Marketplaces have to follow the federal rules on eligibility and enrollment, the engagement between a consumer and a stakeholder and on health plan management. The rules have also allowed for a new marketplace model with shared responsibility between a state and the federal government. These federal supported state-based marketplaces are very similar to any other state-based marketplace only that they use Healthcare.gov platform for eligibility and enrollment instead of state technology. Five states have adopted this kind of marketplace, including Idaho, Nevada, New Mexico, Oregon, and Hawaii. This approach has allowed each state to flexibly tailor their marketplaces to suit local needs better than a government-run health insurance.
What stands out with the state-based marketplaces is that with your needs and budget, you get all the essential health benefits, including doctor visits, lab tests, hospitalization, surgery, and emergency care. Marketplaces also offer additional coverage like dental and vision coverage and chiropractic or acupuncture service coverage. An individual has the option to compare and choose the extra plans.
Healthcare.gov
Healthcare.gov is a federal government operated health insurance marketplace. They allow individuals to compare and apply for a private health insurance and test their qualification for public health insurance like Medicaid or CHIP. States that have not adopted their state-based marketplaces automatically uses the federal Healthcare.gov.
Healthcare.gov offer plans with all the ten essential benefits. It is also divided into four metal tiers of Bronze, Silver, Gold, and Platinum which must be offered by any health insurance provider. This helps those seeking a health cover to choose according to their budget, the higher the metal, the higher their premiums will be. An advantage to the Healthcare.gov is that they provide government premium subsidy.
Conclusion
Statistics have shown that State-based marketplaces have outperformed the Healthcare.gov. States that offer their own marketplaces attract more consumers to sign up for health insurance as compared to states with federal Health.gov plans. The states supported by federal government to run their state-based marketplace also receive a better reception by consumers. The steps planned by Trump administration, especially the removal of the tax penalty may further ruin Healthcare.gov. The government should, therefore, find ways to make it as flexible as the state-based exchanges to benefit consumers.
The Virtual Learning Experience is AMAZING!
Please take a minute to experience the tour through the menu bar above...You will agree, the LATITUDE Insurance & Securities Test Prep Virtual Learning Experience is the best way to prepare for your FINRA/NASAA and/or state insurance licensing exam.
You may know others who will be taking the Life & Health Insurance Exam, Property & Casualty Insurance Exam or FINRA/NASAA Exam(s).
Please share our site with them.
Thank you for visiting the LATITUDE Insurance & Securities Test Prep online insurance school and good luck with your licensing exam!