Para-Medical or "No-Med" Insurance Underwriting...Yes, it's Testable.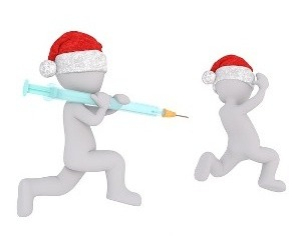 When speaking about life insurance, there are really two categories relative to the medical exam: "no-med" or no medical exam needed, and the "para-med" or paramedical exam required. While the question may not show up on your insurance exam, it's something you should understand prior to getting an insurance license—particularly a life & health license.
For most folks, the medical exam can be one of the least anticipated portions of the application process for life insurance. At about 30 minutes, the medical exam isn't all that time consuming—especially since it can be done at home—yet it still can be viewed as a hassle.
In this article, we'll discuss some of the pros and cons of both underwriting philosophies.
Avoiding the paramedical exam:
There are lots of sound reasons why an individual might want to avoid a medical exam. Getting blood drawn may make you dizzy, for example. Many also want to dodge an exam because they're worried about what unpleasant things the results may reveal. However, among the most common reasons is that someone may know for sure about a compromising medical condition that may prevent them from getting life insurance at all. If any of these reasons ring true for you, there are options—though they may not be appealing.
No-med life insurance is available…for a price:
You can avoid the exam if you really, positively have to. Many reputable insurance carriers do offer no medical exam policies. The no-med policy comes in two flavors, as discussed below.
If you're not in the market for a lot of life insurance, then it's likely you can avoid the medical exam. While the threshold varies from carrier to carrier, policies under the $50,000 limit generally don't require an exam. These types of policies are frequently offered as an add-on to employer health benefit plans for a nominal fee—and without too much in the way of underwriting requirements.
For a standalone policy under $50,000, the insurance carrier may still want to ask some underwriting questions. Expect to complete a questionnaire and it's possible the company may ask your physician for medical records. A saliva sample may also be required to test for HIV. If you do have a known health problem that you don't disclose to the carrier, they can decline to pay any benefits. The best approach for the questionnaire—either paramed or no-med—is an honest one.
The "guaranteed issue" policy:
Another type of no-med policy is the guaranteed issue policy. As the name would suggest, the guaranteed issue (or guaranteed acceptance) policy is a life insurance policy that will provide insurance coverage for any applicant, with almost no questions asked. However, with little to no actual underwriting done, this type of policy can be prohibitively expensive. It's considered a policy of last resort for people with few options for getting life insurance—or for seniors who are looking to cover final expenses. Following are some of the common features of the guaranteed issue life insurance policy.
Exceedingly high premiums: As you might expect, these policies are expensive. It's likely that the total of the premium payments made over a ten-year period will equal the eventual death benefit.

Two-year rule: If the insured dies within the first 2 years of policy issuance it commonly won't pay the death benefit. However, the premiums paid to date are often returned in this scenario.

Premiums can go up annually: Many of these policies will increase in premium every year.

Little underwriting is done: In exchange for the very high premiums, there are few health issues that would disqualify you from getting coverage.

No medical exam: As it's a "guaranteed issue" policy, and little underwriting is done, there is no medical exam.

Low limit of insurance: With guaranteed issue policies, the life insurance carrier will limit the amount of insurance to around $25,000 or less.

Fast issue policies: As you might expect, there is not much to prevent a policy from being issued quickly, often within days.

Term only: There is no cash value to these policies and it's not permanent life insurance. These are strictly term policies meant to be held for less than a decade.
This kind of life insurance policy is for people with known serious health issues but still want a bit of coverage. Someone with a cancer diagnosis would be an obvious example, or someone suffering from a degenerative nerve condition like Parkinson's disease would be another.
For the reasons outlined above, it generally doesn't make sense to purchase this type of life insurance for most people. In most scenarios, you'd be better off exhausting your options on the standard life insurance side before considering a no-med guaranteed issue policy.
The paramed exam and what to expect:
In addition to the actual medical exam, the paramed exam process includes a brief interview to collect detailed information about your medical history. Together this information allows the life insurance carrier to get a comprehensive snapshot of your overall health with which to make underwriting decisions. The medical examination portion of the exam includes taking measurements like weight, height, blood pressure, and heart rate. Then blood and urine samples are collected. Once collected, these specimens are tested at a laboratory, with the results then sent to the insurance company. Definitely let your examiner know beforehand if you normally experience problems such as nausea, fainting, difficulty with clotting, or are taking large aspirin doses. The exam may also include an electrocardiogram depending on insurance company requirements, your age, and amount of coverage requested. The medical portion of the exam is usually completed within 30 minutes.
Once your initial application is complete, the examiner (often a nurse practitioner or similar) will contact you to schedule a time and location. You can choose to have the exam completed at your office or home or at a testing center such as a hospital or physician's office. Once the paramed exam is complete the insurance company will review the results—generally over the course of several weeks—then report back with a decision.
It's important to understand that all the information received during the paramed exam is kept completely confidential and used only for insurability purposes. You're entitled to a copy of the testing results if interested.
The Virtual Learning Experience is AMAZING!
Please take a minute to experience the tour through the menu bar above...You will agree, the LATITUDE Insurance & Securities Test Prep Virtual Learning Experience is the best way to prepare for your FINRA/NASAA and/or state insurance licensing exam.
You may know others who will be taking the Life & Health Insurance Exam, Property & Casualty Insurance Exam or FINRA/NASAA Exam(s).
Please share our site with them.
Thank you for visiting the LATITUDE Insurance & Securities Test Prep online insurance school and good luck with your licensing exam!