Tips to Make Cold Calling Less Painful for New Insurance Agents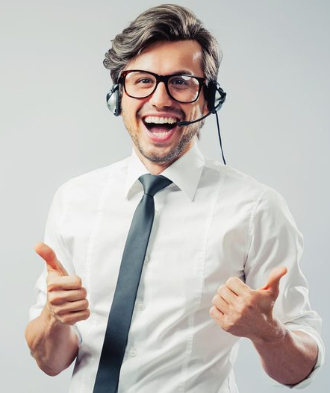 Even though it may seem old-fashioned in the super-connected world of today, the idea of the cold call is very much alive. In a perfect world, your cell phone would be buzzing all day long with insurance prospects throwing business at you. However, the reality is that if you want the sale, you still need to chase it. And while technology has its place in the connected world of sales, the cold call is still a very effective sales technique.
Insurance school will not prepare you for this, and you definitely should not expect any questions on the insurance exam about cold calling. However, the success of your career will depend on your ability to market your services, and the ability to cold call effectively is a skill worth mastering.
According to a recent survey, 65% of more than 1,500 C-level executives polled from several industries reported having taken a meeting as a result of getting a cold call. So, If the idea of making cold calls puts a lump in your throat the following tips will not reduce that feeling. But they should make the experience a more rewarding one.
1) Prioritize your objective.
New insurance agents tend to believe that cold calling is about closing the sale on the spot. Nothing could be further from the truth. It's one step in a multi-step process. The goal of the initial call is to get an appointment where you can continue the conversation, ask thoughtful, probing questions, and ultimately develop solutions to your prospects problems.
2) Research your prospects prior to the call
Targeting your calls to the right audience is crucially important. Research the industry you want to focus on, including insurance-related challenges and specific coverages relevant to that industry. Then learn as much as you can about the individual and their company before the call. This obviously gives you an advantage when discussing their needs and challenges, and sets you apart from other salespeople who don't take the time to get to know their prospects.
4) Prepare to make your calls
Prepare, but don't over prepare. While some preparation will allow you to organize thoughts prior to the call, do not get sucked into an overpreparation black hole where you're not making as many calls as you should be. Some preparation will help you sidestep some typical mistakes in your opening statement that may give the prospect a chance to end the call early. Resist the urge to use common openers like "How are you?" or "Is this a good time for you?" And do not read your statement verbatim from a script. Allow the conversation to flow naturally.
5) Crafting the opening statement
Here's a basic breakdown of what you may want to include in an opening: Use a greeting and then let them know immediately who you are and what company you work for; mention a point of reference (a bit of news you read about recently, or the name of the person who referred you); try to include a relevant benefit for using your insurance services; then ask a questions that don't allow for a yes or no answer.
Here's what that might look like:
"Hi, Ms. Prospect. This is Joe Broker with XYZ Agency. I saw a news article yesterday that your company just moved to a new location here in Springfield County. I specialize in insurance for manufacturing companies like yours and I see that you have a renewal coming up in a few months. Assuming you're interested in saving money this year on renewal quotes, under what conditions would you consider meeting with a prospective broker to discuss further?'"
6) Prepare for the rest of the call
This does not mean you're reading from a script. Again, allow the conversation to develop naturally by asking probing, meaningful questions of your prospect. You want to uncover any issues they may have and move toward getting a face to face meeting. Try to weave in the benefits of using your agency's services and why the prospect should consider using you. While price is important, don't just make it about saving money. The larger the prospect the more your add-on services, like loss control or experience modifier verification, will come into play. Consider possible objections and how you'll address them.
Be ready to answer policy and servicing related questions. Any agency can deliver certificates of insurance, but what sets you apart from them? Is it your policy to deliver same-day certs? If that's a hot-button issue for your prospect, let them know how you can fix it.
7) Be specific about asking for appointments
Say something like, "How does next Thursday at 8:30 a.m. work for a meeting?" Get the prospect to commit to the meeting during the initial call, if at all possible, rather than leaving the next steps unclear. If you can't get through to the prospect again, you've lost the chance at a meeting.
8) A word about gatekeepers
Always be courteous and forthcoming with gatekeepers, and know that your "tricks" to get past them will not get you anywhere in the long term. Remember that the gatekeepers are there for a reason, and have likely dealt with many cold callers before you. Engage gatekeepers in friendly conversation and don't be afraid to ask them questions to let them know they're an important part of the process. When you can establish rapport with gatekeepers you'll have an easier time navigating your way around the company.
9) Send them a promotional item
Mailing a promotional item before you call can help break the ice. It's remarkable how something as insignificant as a stress ball or coffee mug mailed in a little box with a note can open doors. Then when you call, they'll be more responsive and it instantly gives you the point of reference mentioned earlier. Sound too gimmicky? It works.
10) Call early in the morning or in the evening
You've no doubt heard this before. If you want to reach someone directly these are the best times to call and avoid gatekeepers. Beyond that, there are studies showing that Wednesdays and Thursdays give you the best chance to reach a prospect. However, don't get too lost in the weeds on this one. In other words, the absolute best time to call was yesterday, and the next best time to call is now.
Ultimately, experience and persistence will determine your effectiveness with cold calling. While it's not much fun when you're starting out in your insurance career, it's a skill you can develop. The more you do it the easier it gets. Now that you've got your insurance license, your prospects are waiting for you.
The Virtual Learning Experience is AMAZING!
Please take a minute to experience the tour through the menu bar above...You will agree, the LATITUDE Insurance & Securities Test Prep Virtual Learning Experience is the best way to prepare for your FINRA/NASAA and/or state insurance licensing exam.
You may know others who will be taking the Life & Health Insurance Exam, Property & Casualty Insurance Exam or FINRA/NASAA Exam(s).
Please share our site with them.
Thank you for visiting the LATITUDE Insurance & Securities Test Prep online insurance school and good luck with your licensing exam!